2023 Summer Advantage
June 19 – July 21, 2023
Monday – Friday, 8:00 a.m. – 2:30 p.m.
Summit54 takes great pride in offering the ONLY summer academic program available to elementary students in Basalt, Carbondale, and Glenwood Springs. Summit54 has sponsored the award-winning Summer Advantage program since 2012, positively impacting more than 8000 students. New this year, Aspen School District will partner in the Basalt program and provide daily bus transportation for its students. We're thrilled to be able to share this program with Aspen students!
The 2023 program will span five weeks, operating Monday through Friday from 8:00 a.m. to 2:30 p.m., starting June 19 and concluding on July 22. 600+ elementary aged students will participate in this summer's program.
The dedicated program managers, educators and other Summer Advantage staff all play a vital role in the program's success. Each year, all educators participate in a three-day mandatory training session.
The Summer Advantage day begins with breakfast in the classroom, providing teachers time to get to know their students and learn about their families. Breakfast is followed by Focused Kids brain exercises to help children relax and prepare to learn. On M-Th, we spend two hours on literacy and one hour on math. The low ratio of scholars to teachers (11-1) allows us to provide a great deal of personal attention to each student. In the morning, you'll typically see teachers and teaching assistants working with 5-6 scholars, while another small group is working independently. Math is followed by a hot healthy lunch and then active recess. The afternoons offer two enrichment programs such as dance, music, art, science, etc. Each scholar has two enrichment programs on M & W, and two other enrichment programs on Tu & Th. FunFridays feature a guest speaker and field trip. We also include a student led community service project and college visit.
Parents are required to attend a mandatory parent meeting prior to the start of the program. They sign a contract promising to have their child attend the program every day unless sick, be on-time, supervise 20 minutes of nightly reading, maintain a reading log, and attend a parent/teacher conference half way through the five-week program. Parents are also invited to an end-of-program parent luncheon and graduation ceremony.
---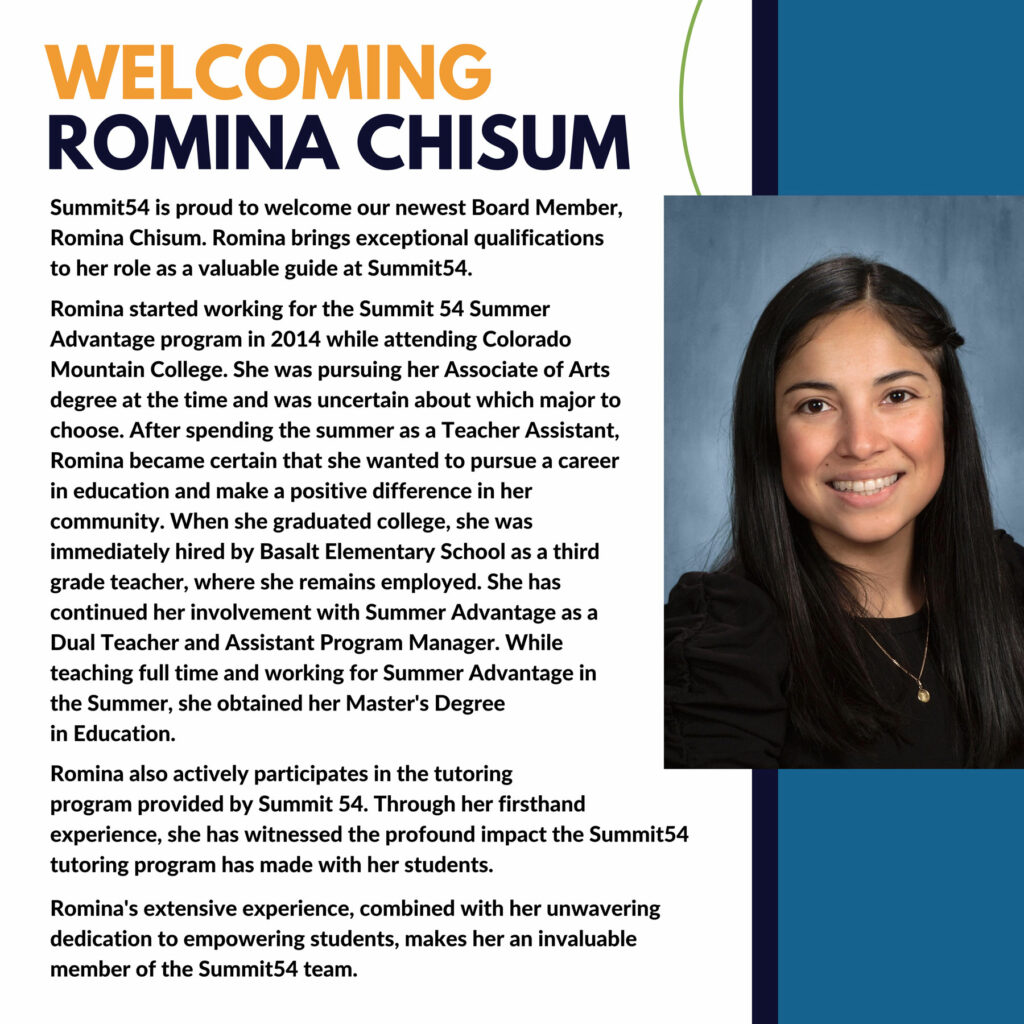 ---
After-School Tutoring Program
We are delighted to share that Summit54 successfully provided FREE After-School Small Group Tutoring to more than 275 elementary students again during the 2022/23 school year. This completes our third consecutive year of providing After-School tutoring. Our commitment to supporting these young learners has remained unwavering. We are thrilled to share incredible testimonials from our tutors about the impact of this program!
In the After-School Tutoring program, students received one hour of tutoring immediately after school on Mondays, Tuesdays, and Thursdays. The sessions took place in Carbondale, Basalt, and Glenwood Springs, ensuring accessibility for the students within their own school communities.
The program accommodates the needs of our students throughout the academic year, offering Fall, Winter, and Spring sessions. While some students eagerly participated in all three sessions, others found success in one or two sessions, benefiting from tailored instruction every step of the way.
Unlike more affluent families who have the means to hire private tutors, the families Summit54 serves are unable to do so. By offering free tutoring, we help bridge the gap to ensure that all students have the support they need to succeed academically.
Furthermore, our licensed teachers, who are essential in delivering these sessions, are paid $65/one hour session by Summit54. The extra income is helpful for many of our exceptional teachers.
The positive influence derived from the after-school program is abundantly evident. We have enclosed herein a few of the many commendations from teachers who have witnessed the remarkable progress of their students. These testimonials speak volumes about the effectiveness of our tutoring initiatives and the lasting impact they have on young minds.